Oklahoma election 2014: BatesLine ballot card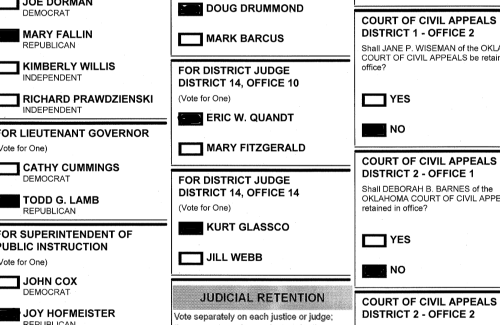 Here are the candidates I'm recommending and voting for (when I can) in the Oklahoma general election on November 4, 2014. Links lead to more detailed information or earlier blog entries. (This entry may change as I decide to add more detail or discuss additional races between now and election day. The entry is post-dated to keep it at the top.)
For your convenience, here's a printable one-page "cheat sheet" version to take along to the polls and pass along to friends, but please read the detail and click the links below.
U. S. Senate: James Lankford (R) (unexpired term) and Jim Inhofe (R) (full term). Both are good men and solid conservatives. If you want a Republican majority in the Senate, we have to do our part in Oklahoma and elect Republicans to the two seats on our ballot.
U. S. House: Vote Republican (R). Jim Bridenstine won re-election without opposition. We need to keep all five of Oklahoma's districts in the GOP column. Steve Russell, running for Lankford's 5th District seat, will be a principled, courageous conservative addition to Congress.
Governor: Mary Fallin (R). While Fallin has failed to lead vigorously during this conservative Republican moment in Oklahoma politics, she has signed the good bills that the legislature sent her (even if reluctantly). Her Democratic opponent is conservative on a couple of important issues but is likely to fill his cabinet, state boards and commissions, and the state bench with Democratic allies who aren't as conservative.
Lt. Governor: Todd Lamb (R). Charlie Meadows of OCPAC calls him "the best Lt. Governor we have ever had." Lamb is focused on making Oklahoma a better state to start and build businesses.
State Superintendent: Joy Hofmeister. Although I have my reservations about Hofmeister, her Democrat opponent wants to take education in the wrong direction -- more administrators (fewer would be better), more state funding (more local funding and parental choice would be better), and social promotion. State Sen. Rick Brinkley writes:
I believe her experience on the State School Board and as a classroom teacher prepares her for this position. I am most impressed that she served on the State Board, didn't like the way she saw education headed in Oklahoma, resigned, took on the incumbent and won. She risked a lot for what she believes in and that I greatly respect. I've met John Cox. He seems very nice. I just can't see a person who manages 16 teachers having the experience to run the [State Department of Education.
Labor Commissioner: Mark Costello (R). The incumbent has been working closely with business owners and workers to make the Oklahoma workplace a safer place. Restore Oklahoma Public Education leader Jenni White writes of Costello, "Mark is one of a very few conservatives I have ever met that just intuitively understands the ideals of conservatism."
State legislature: In general (with one important exception -- House 12) I encourage you to vote for the Republican. Here are some races that deserve special mention.
Senate District 6: Josh Brecheen (R). Representing southeast Oklahoma, Brecheen was a champion in the battle to repeal Common Core. The State Chamber wants him gone because he's not a corporate-welfare fan. He voted the wrong way on National Popular Vote, but publicly recanted his vote and called on the House to block it.
Senate District 18: Kim David (R). One of the sensible senators who opposed National Popular Vote.
House District 12: One of the few exceptions to the general rule to vote for Republicans. The GOP nominee in this race supports National Popular Vote and, if elected, could do more harm to the conservative cause nationally than the term-limited Democrat he wants to replace. I encourage my Republican friends to leave the ballot blank in this race.
House District 14: George Faught (R). Faught left the House two years ago to run for Congress, but, sadly, he didn't win the nomination. It will be good to have this principled, intelligent conservative back in the State House.
House District 76: David Brumbaugh (R). Incumbent Rep. Brumbaugh has been a consistent conservative voice for Broken Arrow. He deserves particular praise for putting forward a bill to to require counties to include all funds in their annual budgets. Brumbaugh was one of eight legislators to receive a 100% on the Oklahoma Constitution's annual conservative index.
House District 87: Jason Nelson (R). The leader in the State House in the fight to repeal Common Core.
District Judge:
Here are some general thoughts on district judge races and how the process works. Here's a podcast of my KFAQ conversation on judicial races with Pat Campbell, Eddie Huff, and Charlie Biggs.
District 10 District Judge, Office 1 (Osage County): John Kane. A good man and a well-respected judge, facing an opponent with a problematic personal history.
District 14 District Judge, Office 1 (Tulsa and Pawnee Counties): Incumbent William Kellough is praised for his temperament and damned for his habit of reducing sentences in heinous crimes. His opponent, Caroline Wall, was ousted in 2006 over similar charges of excessive leniency and concerns about temperament and work ethic. Kellough has a massive financial advantage in the race.
District 14 District Judge, Office 2 (Tulsa County judicial election district 3): Sharon Holmes. Incumbent Jesse Harris did not seek re-election. Holmes is described as a hardworking attorney, effective in the courtroom, and a woman of integrity.
District 14 District Judge, Office 8 (Tulsa County judicial election district 5): Doug Drummond. Drummond, a prosecutor, has amassed broad and substantial support, particularly from conservatives in the legal community, in his race to unseat incumbent Mark Barcus, although the local establishment is still backing Barcus.
District 14 District Judge, Office 10 (Tulsa and Pawnee Counties): Eric Quandt. Quandt, a well-regarded workers compensation judge, has also developed strong support against incumbent Mary Fitzgerald. Fitzgerald has been criticized for frequent reversals. Fitzgerald is described as being "part of the problem at the county courthouse" and a source of frustrations for those dealing with family and domestic cases. Quandt is praised for even-handedness; even attorneys with whom Quandt has had personal differences say that he treated them fairly in his courtroom. The local establishment is backing Fitzgerald. (On a personal note, when I questioned Quandt's candidacy based on a campaign consultant's support for National Popular Vote, Quandt contacted me in a very gracious way, and we had a good conversation. Quandt thinks National Popular Vote is a ridiculous idea, a bad solution for a non-existent problem.)
District 14 District Judge, Office 14 (Tulsa and Pawnee Counties): Kurt Glassco. Despite his background as a Democratic candidate for Congress many years ago, Judge Glassco is well-regarded by conservative Republican attorneys as a fair and skillful arbiter. John Eagleton writes: "Judge Glassco has my respect. I have appeared in his court and observed him handling hundreds of cases. He is a great judge. He follows the law without injecting personalities into the outcome. We need more judges like him." His challenger evidently feels comfortable with the redefinition of terms in the law and the overriding of popular will, not a desirable attribute in a judge.
Supreme Court and Appellate Courts:
These judges don't run against each other, but on an up-or-down retention ballot every six years. The three supremes all deserve to be voted out, as does Civil Appeals Court judge Jane Wiseman. Conservatives are supporting retention of Brian Goree on the Court of Civil Appeals and Gary Lumpkin on the Court of Criminal Appeals. So vote YES on Goree and Lumpkin, NO on everyone else.
On the back of your ballot, all three questions will support those currently serving in the military or those who have served, and all three deserve your YES vote.
Tulsa City Council:
All Tulsa City Council seats and the City Auditor position were up for election this year, but some were unopposed, and other races were settled in the primary. Only Districts 3, 6, 7, and 9 have general elections, and they'll be on a separate ballot from the rest of the races.
As predicted, city issues have been completely overshadowed by other races on the ballot and national and state issues. We were better off when city elections were held in the fall of odd-numbered years. My general rule is to find out which candidate is funded by the Money Belt and to vote the other way.
Tulsa City Council District 3: Virgil Wallace. Having graduated to the choir invisible, Roscoe Turner won't be on the ballot this year, but some of Turner's stalwart supporters have told me they're backing Wallace. The incumbent, David Patrick, is backed by the usual big money crowd, including developers who want to drive all other voices out of the zoning and land use planning process.
Tulsa City Council District 6: I'm not a fan of Skip Steele, who was the establishment-backed candidate used to get rid of reformer Jim Mautino. Connie Dodson, Steele's opponent, has run as a Democrat for State House. Her campaign appears to be funded primarily with her own funds, but she has a $5,000 contribution from Santiago Barraza, the president of ISTI Plant Services, a Tulsa Port of Catoosa-based manufacturer with offices in District 6 on 21st Street west of Lynn Lane Rd. Apparently, Barraza either really likes Dodson, or Steele did something that really hacked him off. Other donors include Democratic super-donor George Krumme, Sharon King Davis, Patty Eaton, and Mariscos El Centenario. (What an unusual first name!)
Tulsa City Council District 7: Arianna Moore. Republican incumbent Moore's leading challenger is liberal Democrat Anna America, Kathy Taylor's campaign manager. America had been a school board member but then resigned when she moved out of the district. Kathy Taylor, Taylor's husband Bill Lobeck, other members of the Lobeck/Taylor family, and other members of their political orbit are major donors to America's campaign.
I've been accused of being motivated by mere partisanship in picking Mrs. Moore over Ms. America, and there's some irony in that accusation. When I ran for City Council in 2002, I was endorsed by just about every neighborhood association leader in District 4, most of whom were Democrats. Anna America, then head of the White City neighborhood association, was one of the few exceptions. She supported Democrat Tom Baker, who was backed by the Chamber and the developer groups and who had demonstrated hostility to neighborhood concerns. (When Renaissance Neighborhood successfully fought the location of a new fire station in the middle of their neighborhood, Baker referred to them on the Fire Department's public-access TV show as CAVE people -- Citizens Against Virtually Everything.)
I always assumed America endorsed Baker because he was the Democratic nominee, and she was being a good party soldier, but maybe it was because she didn't want someone on Council who would work for neighborhood empowerment in zoning and historic preservation.
Tulsa City Council District 9: G. T. Bynum is no conservative, and he seems to be laying the groundwork for another tax increase proposal for river projects. His opponent, Paul Tay, has some interesting ideas on urban planning and transportation, but his personal conduct distracts from those ideas and makes him impossible to endorse.
MORE: The ladies who led the fight to repeal Common Core in Oklahoma have posted their personal endorsements. And they reposted this guide to the judicial retention ballot by Sharon Annesley of the Oklahoma Liberty Tea Party.
The Oklahomans for Life 2014 primary candidate questionnaire is online. There are separate sets of questions for state and federal candidates, and you can read the full text of the questions to which the candidates are responding.
OCPAC head Charlie Meadows has posted his personal picks.
Muskogee Politico Jamison Faught has posted his picks.
Here are the Tulsa Beacon's endorsements.
1 TrackBacks
Why are the executives and employees of a Rogers County manufacturing company, many of whom don't live in Tulsa County, so passionate, so willing to give sacrificially in support of a candidate for Tulsa County Sheriff? An odd thing about Vic Regalado'... Read More