Shane Saunders for House District 70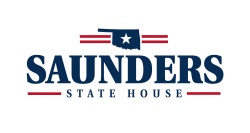 To reiterate something I wrote earlier today, it's a pleasure to be able to commend to you a candidate that I've known for years before he decided to throw his hat into the ring. When I tell you that Shane Saunders is a principled across-the-board conservative, thoughtful and well-spoken, it's grounded in countless conversations over the decade that I've known him.
Shane grew up and went to school in District 70, got his bachelor's in politics and classics at Washington & Lee University, then spent three years working in Washington as a staffer for Congressman John Sullivan. He returned to Tulsa in 2005 and founded Trident Energy, an independent oil and gas producer. Shane is married, and he and his wife Taylor have a one-year-old daughter. Shane is a consistent supporter of the sanctity of human life, a cause that has been important to him since he was in high school. As a small businessman, he doesn't support corporate welfare, where government picks winners and losers, but instead believes Oklahoma should provide the kind of business environment in which any entrepreneur could start a business and grow it.
Shane's hands-on experience with the legislative process, his personal involvement with the oil and gas industry, his sharp mind, his devotion to his Christian faith and his family, and his affable nature will all be valuable assets not only to the citizens of House District 70, but to the majority Republican caucus and to the State of Oklahoma.
When I started writing on a regular basis several years ago, I stopped actively pursuing opportunities to do computer work for campaigns, but when Shane, who had worked with me on campaigns in the past, asked me to handle data for his campaign, I was happy to be a part of his team. I know Shane Saunders will be a principled conservative leader in the Oklahoma State House, and I urge you to join me in voting for Shane Saunders on June 26.
2 TrackBacks
For your convenience, here is a list of the candidates I've endorsed, will be voting for, or otherwise recommend in the June 26, 2012, Oklahoma Republican primary. Early voting is already underway; as this is a Federal election, early voting ("in-perso... Read More
Early voting begins tomorrow (Friday, August 24, 2012), so it's time (past time, really) for my picks in next Tuesday's (August 28, 2012) runoff election. Here's the first in a series: House District 70: Shane Saunders: This is an open seat -- incumben... Read More