BatesLine ballot card: 2012 Oklahoma primary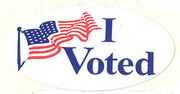 For your convenience, here is a list of the candidates I've endorsed, will be voting for, or otherwise recommend in the June 26, 2012, Oklahoma Republican primary. Early voting is already underway; as this is a Federal election, early voting ("in-person absentee") will be available at the Tulsa County Election Board at 555 N. Denver Ave in Tulsa on Friday, June 22, 2012, from 8 a.m. to 6 p.m., Saturday, June 23, 2012, from 8 a.m. to 1 p.m., and Monday, June 25, 2012, from 8 a.m. to 6 p.m. (All county election boards offer early voting at those times; click this link for your county election board's location.)
As I have time, I'll add links to endorsements I've already made, brief notes about those I haven't previously written about. Here's a link to the archive of BatesLine posts about Oklahoma Election 2012.
Corporation Commissioner: Bob Anthony: A long-time advocate for the Oklahoma consumer, he's being challenged by a former OCC staffer. I've read Brooks Mitchell's attacks on Anthony, but I don't think he makes a compelling case for replacing Anthony.
1st Congressional District: John Sullivan: Strongest conservative ratings of any Oklahoma congressman, Sullivan is on the lengthy ladder to leadership on the House Energy and Commerce Committee. His opponent's interest in public policy seems fairly recent, judging by his voting record, and he's vague about substantive policy differences with Sullivan.
2nd Congressional District: George Faught: The only candidate with legislative experience, a track record of conservative leadership, and long-time residence in the district. Endorsed by major conservative groups and icons like Mike Huckabee, Phyllis Schlafly, David Barton of Wall Builders, Mike Farris, founder of the Home School Legal Defense Fund, Conservative Women for America PAC, Family Research Council Action PAC, Gun Owners of America PAC, and State Auditor Gary Jones.
Tulsa County Clerk: Cassidy Tandy: Tandy understands the need to bring the County Clerk's office into the 21st Century by making public records publicly available and easily accessible online. Currently senior appraiser in the County Assessor's office, Tandy would, as County Clerk, join her current boss Ken Yazel on the County Budget Board as an advocate for budget transparency. One of her opponents, the current deputy, seems satisfied with a public records system that requires monthly fees and the permission of the county commission for full online access. A third candidate, Dean Martin, doesn't speak to the County Clerk's duties in his campaign material.
Senate 39: Kevin McDugle: McDugle has been endorsed by national and state conservative organizations, including the Family Research Council Action PAC and Americans for Tax Reform. I appreciate incumbent Brian Crain's support for the personhood act this year, but last year he had the least conservative voting record of any Republican in the State Senate, according to the Oklahoma Constitution's ratng. I found Crain's mailer touting his support for local decision-making ironic, in light of his past sponsorship of legislation to override local control of the zoning process.
Senate 41: Paul Blair: Blair has also been endorsed by the Family Research Council Action PAC. His opponent, incumbent Clark Jolley, was chairman of the Senate redistricting effort and is therefore responsible for the ugliest gerrymander I have ever seen. The map chops up central Tulsa to be represented by suburban-dominated districts.
McDugle and Blair have been under heavy attack from an independent expenditure group called Coalition for Oklahoma's Future. Funders include the Chickasaw Nation, Rooney Holdings Inc, Flintco LLC, Williams Co, Clayton Bennett, Continental Resources, and Chesapeake Inc. Although the group has spent money on four State House races, the bulk of their resources has gone into these two Senate races.
House 23: Jason Carini: The Carini family has been a part of our church family for many years, and we've seen firsthand the deep roots of Jason Carini's conservative principles, Christian faith, and interest in public policy. Jason has years of grassroots conservative involvement and a successful small business, a solid foundation to be the kind of conservative leader Oklahoma needs now and for many years to come. And Jason is a new dad -- his first child arrived Thursday.
House 70: Shane Saunders: Shane's hands-on experience with the legislative process, his personal involvement with the oil and gas industry, his sharp mind, his devotion to his Christian faith and his family, and his affable nature will all be valuable assets not only to the citizens of House District 70, but to the majority Republican caucus and to the State of Oklahoma. Shane's also a new dad, married with a one-year-old daughter.
House 71: Katie Henke: Henke was the GOP nominee in the April special election that ended in a virtual tie after a barrage of mendacious attacks against her. Henke, a school teacher, faces one of her special election primary opponents, perennial candidate Evelyn Rogers. Winner will face Democrat Dan Arthrell in November, and Henke is undoubtedly the best prepared to win that race.
Tulsa Charter Amendment: No. Supposedly a housekeeping amendment to clean up the sloppy mess that Tulsa voters approved last year, it fails to align Tulsa's filing period with Oklahoma's. Read it here. The city's chaotic election calendar needs some careful study and restructuring, not the carefree tinkering that we've seen over the last three years.
Disclosure: I do computer data processing work for the Sullivan, Saunders, and Henke campaigns.