Bill Christiansen for Tulsa Mayor
Another day, another mendacious attack mailer from Dewey Bartlett Jr. If I had known there were enough Tulsans who objected to rising city budgets, county tax initiatives, the City Hall move, the Great Plains Airlines bailout, and accepting Federal stimulus money to justify a mail piece targeting those concerns, I would have run -- I was on the right side of all those issues, after all.
Of course, the point of these mendacious mailers is not that a majority of Tulsans agree with me, but that some number of Tulsans who agree with me on these issues and disagree with how Bill Christiansen handled them are nevertheless supporting Christiansen for mayor. Bartlett Jr's only hope of surviving Tuesday's primary may be to discourage and dishearten enough of these Christiansen supporters to keep them at home, to peel off just enough of Christiansen's support to allow Bartlett Jr to finish second.
No one has to tell me that Bill Christiansen and I have disagreed and still disagree on many city issues. But nearly every issue that Bartlett Jr has used against Christiansen works against Bartlett Jr, too.
For example, Christiansen recused himself on the Great Plains Airlines bailout vote because he is a tenant of one of the parties involved in the matter (the Tulsa Airport Authority), but he couldn't have stopped it if he had wanted to do so. Councilors were told by attorneys that they had no discretion to reject the settlement; they were only being asked to certify the presence of enough money in the city's sinking fund to pay the bill.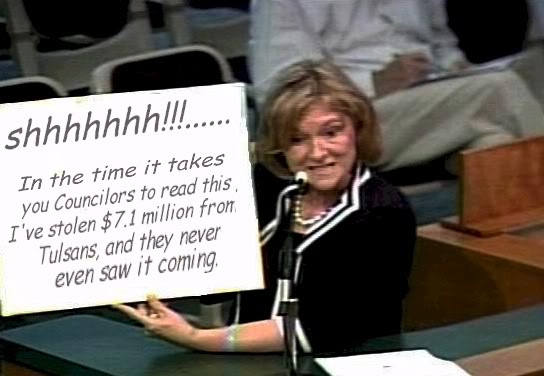 Dewey Bartlett Jr, as a member of the Tulsa Airport Improvements Trust, voted for the illegal Great Plains Airlines settlement that Kathy Taylor orchestrated. Bartlett Jr praised the deal, saying, "It's something we need to do and I applaud the mayor and the Bank of Oklahoma for working out a deal." Click that link to watch the video of Bartlett Jr's vote and comments.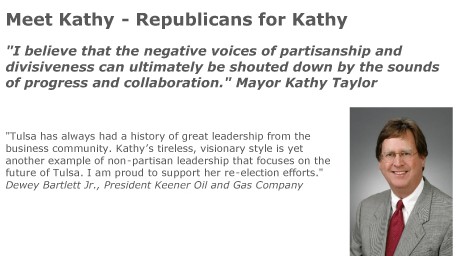 I wasn't happy when Christiansen went along with then-Mayor Taylor on the purchase of One Technology Center for the new City Hall or the use of a stadium trust and assessment district to finance a downtown ballpark. I spoke out against both of those decisions, but I don't recall Dewey Bartlett Jr raising any objections. In fact, Bartlett Jr implicitly supported both bad deals when he endorsed Kathy Taylor unreservedly for re-election and said he wouldn't "be concerned if people consider him [Bartlett Jr] an extension of Kathy Taylor's leadership."
Even after he was elected, Dewey Bartlett Jr defended the One Technology Center purchase, despite a golden opportunity to distance himself from the costly decision.
If Dewey Bartlett Jr knows that the same accusations he's hurling against his opponent also work against him, he's cynical and disingenuous. If Dewey Bartlett Jr doesn't know that, he's clueless.

So let's stipulate that the Big Three Candidates disagree with me and other grassroots Tulsans, of both parties, on many city issues that matter. There are several solid reasons for us, nevertheless, to choose Christiansen over Bartlett Jr and Taylor:
1. Bill Christiansen made his money by building a business.
Bill Christiansen didn't marry into wealth, and he didn't inherit wealth. He came out of the Marines with a dream, came to Tulsa, and started a business from scratch. 41 years later his business, Christiansen Aviation, is still going and growing.
In recent years, I've had a front-row seat to watch several friends build businesses from scratch. It's given me an appreciation of the complex thought, hard work, self-discipline, and persistence involved in taking a little bit of money and the diverse skills and temperaments of a collection of employees and turning it into a living, growing enterprise that provides stable employment for dozens of people. Those abilities are needed at City Hall.
2. Bill Christiansen stayed married.
It's impolitic to point this out, I know, in a day when even conservative radio talk show hosts (even Catholic ones) minimize the issue of divorce. (Which gives social liberals ammunition against our efforts to stop same-sex "marriage.") We all know of divorces where the blame is split evenly, and we know of other divorces where one spouse's abusive or irresponsible behavior bears most of the blame. It's reasonable for those of us who believe in traditional marriage, when we consider our election options, to examine whether a candidate's divorce points to a severe character flaw. It's reasonable to ask if there was bad judgment involved, and if it has been corrected.
But surely everyone can agree that it's an accomplishment for a couple to stay together for 43 years, as Bill Christiansen and his wife Veretta have done. It's a sign of self-control and self-sacrifice, devotion and determination, particularly in an age when so many think divorce is no big deal.
3. Bill Christiansen understands that leadership starts with being a servant.
See 1 and 2 above. You can't succeed in building a business if you see yourself as royalty and expect to be catered to. Your job as the CEO is to give your people what they need to do their magic every day for the benefit of your customers and to keep obstacles out of their way. You can't succeed in marriage unless you're willing to sacrifice your own interests for the sake of your wife and kids. Christiansen has made "servant leadership" a core theme of his campaign. Christiansen sees the mayor's job not as being a "city boss," trying to push citizens to a destination of his choosing, but rather facilitating the work of city employees in their service to the public and facilitating Tulsa citizens as they seek to live their lives and pursue their own dreams.
4. Bill Christiansen has been moving toward a better, grassroots vision for city government.
When Christiansen was first elected, it was with the Tulsa Metro Chamber's support, and he tended to follow their lead. You'll find plenty of complaints on this website about Christiansen during his first few terms on the council. You can read how I wrested with his record when I decided to endorse Christiansen for re-election in 2009 against a challenge from Phil Lakin:
He has improved in recent years. He worked with former Street Commissioner Jim Hewgley III to try to develop a maintenance-heavy street repair package -- the Baby Bear plan. I had my doubts about whether he would remain opposed to the South Tulsa bridge, since some who backed his start in politics supported it (notably former Tulsa City Councilor, now Bixby resident, John Benjamin), Christiansen has been steadfast on the issue.

Christiansen's work on the bridge issue seems to have made him more sympathetic to concerns of homeowners regarding new development. He put together a Land Use Education and Communication task force. The task force recommendations are aimed at making the rules understandable and providing better web access to information on new development to help public awareness. There are some great ideas here, but as they would arm citizens with more timely information, I am sure that some old-guard development industry types are unhappy about it. I've heard speculation that this task force is one of the reasons that the establishment has abandoned Christiansen and is instead backing Phil Lakin....

In that 2009 piece, I omitted to mention another important issue in Christiansen's evolution: He watched neighboring homeowners get the runaround over the Sonoma Grande apartments in southeast Tulsa, a development that exploited a zoning anomaly and built up the terrain so that the new apartment buildings towered over neighboring single-family backyards. That was another factor in prompting the Land Use Education and Communication task force. At last Wednesday's mayoral meet-and-greet, Christiansen talked about the influence of a tour with members of Preserve Midtown, where he learned about the direct physical harm that heedless infill development can do to neighboring properties.
In 2013, when Dewey Bartlett Jr was beating the drum for the Vision2 corporate welfare, pork barrel, and long-term debt county tax proposal, when Kathy Taylor was hiding like a coward from the issue, Bill Christiansen courageously expressed his unequivocal opposition to Vision2.
Bartlett Jr beats on Christiansen for agreeing to Kathy Taylor's plan to finance the purchase of the new City Hall by borrowing $67 million against revenue from rentals in the new buildings and sales of the old buildings, but Bartlett Jr tried to persuade taxpayers to waste $80 million in bonding costs and interest as part of Vision2. Bartlett Jr wanted us to start borrowing and spending right away, four years before we would have any revenue that could be used to pay back the bonds.
5. If elected, Bill Christiansen will owe nothing to the Midtown Money Belt establishment.
My conclusion in 2009 remains valid:
And that abandonment by the establishment is the main reason why, if I lived in District 8, I would vote for Bill Christiansen. It takes some people longer than others to learn the lesson, but once you've been burned by the local oligarchy, it's a lesson you don't forget.
Many of the same Money Belt types who put Christiansen in office in 2002 put a lot of money into trying to remove him in 2009. The contribution records for the mayoral candidates show that they're backing Taylor and Bartlett and shunning Christiansen.
For example, Oklahoma's wealthiest man, Obama bundler George Kaiser together with his wife Myra Block gave $3,500 each to Dewey Bartlett Jr and Kathy Taylor this year -- nothing to Christiansen. In the 2009 council race, Kaiser gave $2,500 to Christiansen's opponent, Phil Lakin; BOK Financial Corp PAC gave $2,000; and there were many other four-digit contributions from individuals affiliated with BOK, George Kaiser Family Foundation, and other Kaiser-affiliated entities and businesses. Bill Lobeck (Mr. Kathy Taylor) gave $2,500 to purge Christiansen from the Council.
If Christiansen wins, he will owe nothing to the Money Belt elite, who put their own recreational interests ahead of the basic needs of Tulsa's citizens. He will win in spite of them. He will owe his election to grassroots Tulsans from the four corners of the city. That would be a welcome change.
One more thing: People who haven't been paying close attention assign blame to Christiansen and his fellow councilors for the disputes between the nine of them and Bartlett Jr. The reality is that the councilors did their best to work with Bartlett Jr in the beginning. They continued to work well with each other, despite their disparate backgrounds, interests, and political philosophies. Christiansen and his fellow councilors sought to fund essential services without increasing fees or taxes and without laying off police. Bartlett Jr wouldn't cooperate; it was as if he wanted an excuse to fight with the TPD and to fight with the council.
It amazes me how many of my fellow conservatives believe the Bartlett Jr line on his inability to get along with the City Council. If you don't believe the Tulsa Whirled editorial board when they tell you that abortion rights are good, that Planned Parenthood deserves public funding, and that our taxes aren't high enough, why should you believe them when they say that the City Council is a bunch of bickering buffoons? If nine very different people get along well with one another, and all of them have trouble getting along with one other person, who do you think is causing the problem?
He's not the perfect candidate by any means, but Bill Christiansen is by far the candidate for mayor who offers the best hope for Tulsa's future.
0 TrackBacks
Listed below are links to blogs that reference this entry: Bill Christiansen for Tulsa Mayor.
TrackBack URL for this entry: http://www.batesline.com/cgi-bin/mt/mt-tb.cgi/6890