Oklahoma Primary 2014: BatesLine ballot card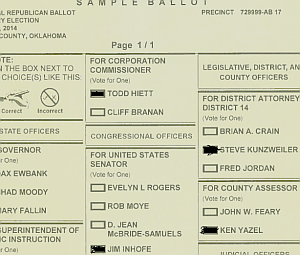 Here are the candidates I'm recommending and voting for (when I can) in the Oklahoma primary elections on June 24, 2014. (This entry will change as I decide to add more detail or discuss additional races between now and election day. The entry is post-dated to keep it at the top.)
For your convenience, here's a printable one-page "cheat sheet" version to take along to the polls and pass along to friends, but please read the detail and click the links below.
U. S. Senate (unexpired term): Randy Brogdon. He's running a low-key campaign, but he has a consistent record of a conservative approach to government as city councilor, mayor, and state senator. There's a runoff, so there's no need to cast a tactical vote for one of the two front-runners. Vote your conscience. Vote for someone we know we can trust to do the right thing.
U. S. Senate (full term): Jim Inhofe. He annoys the left, particularly with his refusal to kneel to climate deniers (i.e., the anthropogenic global warming cultists who deny the Medieval Warm Period and deny the current stability of global temperatures). Good enough for me.
Governor: Dax Ewbank. While Gov. Mary Fallin eventually did the right thing on Obamacare exchanges and Common Core, her dithering on these clear-cut issues makes me worry about her decision-making in a lame-duck term. Fallin failed to establish a good working relationship with her own party's legislative leadership, culminating in her veto snit-fit, in which she killed several good bills, including some she'd requested, to make some sort of point. Fallin never took a stand against the National Popular Vote compact, a left-wing dream that had been slipped through the Oklahoma Senate early in the session. (More about NPV here.)
I don't believe Fallin deserves another term, but I'm not sure the other candidates have the resources to defeat the lone Democrat candidate, Joe Dorman, in November. I will likely cast a protest vote for Dax Ewbank, an IT professional and former pastor who calls for abolishing the state income tax. UPDATE: I'm not even sure Fallin is strong enough to win in November. At the very least she needs a wake-up call, and a guy whose name sounds like a Star Trek character seems to be the person to deliver it.
State Superintendent: Joy Hofmeister. Janet Barresi has made enemies across the political spectrum. Conservatives don't like her support for Common Core. Liberal public school administrators don't want to be held accountable by her school grading system. Those same administrators have heavily funded Joy Hofmeister's campaign, and Hofmeister's emails to some of those administrators at their official school email accounts display considerable hostility to school choice programs, including the Lindsay Nicole Henry Scholarship program that allows children with special needs to receive the education they need. I will likely cast a protest vote for Brian Kelly, the third candidate in the Republican primary. UPDATE: Conservatives I trust, including the ladies who led the fight to kill Common Core in Oklahoma, have convinced me that Barresi is not a friend of conservative, locally-controlled reform of public education and that Hofmeister, thoughtful and principled enough to oppose Common Core despite the alienation of some of her early supporters, is trustworthy. That remains to be seen, but at the moment Hofmeister seems to be the only hope we have.
Insurance Commissioner: John Doak. The incumbent has done a fine job representing Oklahoma's ratepayers in their dealings with insurers.
Corporation Commissioner: Former Speaker Todd Hiett. A good rule of thumb is to vote for the Corporation Commission candidate with the smallest bankroll. As one of my friends put it -- Hiett is a square-dealer, Branan is a wheeler-dealer. Hiett was an honorable and honest Speaker of the House. Hiett has been endorsed by State Auditor Gary Jones, who has worked closely with both candidates over the years. Hiett opposes mandatory smart meters.
The other candidate, State Sen. Cliff Branan, is backed by bajillionaires who might have an interest in regulating certain energy sources out of existence. Branan is one of the doofuses who voted in favor of the National Popular Vote Compact, SB 906 and has never apologized, as far as I am aware. Branan has also been endorsed by Ed Apple, who wanted to replace Bob Anthony, a beacon of courage and integrity at the Corporation Commission, with a Democrat utility company lobbyist. While there are a few good people backing Branan, many more people I trust are endorsing Hiett.
Senate District 12: John Knecht. The incumbent, President Pro Tempore Brian Bingman, voted for the National Popular Vote compact and allowed it to slide through the Senate before the public knew what was happening.
House District 31: Jason Murphey. An IT professional, Murphey has received national recognition for his efforts to modernize and streamline state government's use of computer technology and to make public information more readily available to the public online. He is a principled conservative who doesn't take any gifts from lobbyists.
House District 69: Chuck Strohm This is an open seat that will be decided in the GOP primary. Strohm is a software engineer, a member of the Jenks Planning Commission and school bond oversight committee, and is the grassroots conservative candidate in the race. Strohm authored the county GOP's precinct organization manual. His chief opponent has names on her reports that link her to the Chambercrat wing of the party.
House District 76: David Brumbaugh. Incumbent Rep. Brumbaugh has been a consistent conservative voice for Broken Arrow. He deserves particular praise for putting forward a bill to to require counties to include all funds in their annual budgets. Brumbaugh was one of eight legislators to receive a 100% on the Oklahoma Constitution's annual conservative index.
House District 98: Terri Cleveland. This is an open seat in Wagoner County that includes Broken Arrow and Coweta and will be decided in the GOP primary. I've known Terri through Republican Party politics for over a decade, working together on many campaigns and committees. After working as a campaign and organizational consultant, she went to work for the City of Broken Arrow, representing the concerns of this growing city at the state capitol. Her opponent, Michael Rogers, is heavily funded by special interest PACs, but he has the endorsement of outgoing incumbent John Trebilcock and the Oklahoma Conservative PAC.
Tulsa County District Attorney: Steve Kunzweiler. With 24 years of experience as a prosecutor, Steve Kunzweiler is the Chief of the Criminal Division in the DA's office, mentoring 35 assistant DAs and overseeing the prosecution of thousands of criminal cases every year, over 12,000 in 2013 alone. His opponent is a legislator in search of his next gig and doesn't appear to be eligible to serve.
Tulsa County Assessor: Ken Yazel. In the State Auditor's annual review, Yazel's team has the highest rating of any county assessor office in the state. The only stalwart ally for fiscal conservatives at the county courthouse, Yazel has pushed for full financial transparency, including all county funds in the annual budget (like Oklahoma County does), not just new general fund money. The county officials who back his opponent have resisted that idea, even lobbying against it at the State Capitol.
Tulsa County Commissioner District 1: Brian Pounds. Northern and eastern Tulsa County needs a change in this office. Pounds has county courthouse experience from his work in the assessor's office. The incumbent wasted taxpayer time and money by putting two ill-advised tax packages on the ballot, taxes that were ultimately shot down by the voters. Rather than taking the challenge to fund criminal justice needs without raising taxes, he voted to put a county sales tax hike on the ballot instead. The incumbent is said to have been a ringleader of the resistance to total county budget transparency.
Rogers County Treasurer: Jason Carini. Carini, a successful small-business owner and lifelong conservative Republican, is challenging an incompetent incumbent who hasn't issued tax warrants at any time during her 23 years in office.
District Attorney, Adair, Cherokee, Sequoyah, and Wagoner Counties: Brian Kuester. Kuester is finishing his first term as DA of this district that sprawls from the suburbs of Tulsa to the suburbs of Fort Smith and has achieved a 200% increase in the number of cases tried.
Tulsa City Council District 2: Jeannie Cue. Cue is a voice at City Hall for the neighborhoods of her district, particularly the oft-forgotten west side of the river.
Tulsa City Council District 4: Blake Ewing. Ewing has been a leader on the City Council. He is unafraid to ask the questions that need to be asked of the mayor and department heads. As we approach the adoption of a new zoning code, Tulsa's historic neighborhoods need Blake Ewing at the table. Ewing understands land use and planning issues as a homeowner, as a businessman invested in reviving District 4 neighborhoods, and as a student of what makes a city grow and prosper.
Ewing's chief rival, Dan Patten, was Dewey Bartlett Jr's campaign manager. When the mayor's campaign manager decides to run against the mayor's leading critic, the campaign manager has the burden of proof to show that he's not just running at the behest of his client. At a recent forum, Patten seemed not to have any understanding of the purpose or history of land-use planning.
Ewing's endorsement of Kathy Taylor was disappointing, but the alternative was Bartlett Jr, who had also endorsed Taylor for re-election on the strength of her first-term performance. When Bartlett Jr alienates one set of city councilors, manages to defeat nearly all of them at the polls, and then alienates the new set of city councilors who replaced them, it's apparent where the problem lies. Ewing also points out that it was Bartlett, not Taylor, that pushed for the Vision2 corporate welfare slush fund.
Elissa Harvill, a newcomer to Tulsa politics, displayed admirable enthusiasm and a strong foundation of principle during the TulsaNow forum. What's missing, at this early point in her time in Tulsa, is knowledge of the particulars of Tulsa history and governance. As she gets involved and learns her way around, I expect she'll make many positive contributions to our civic dialogue.
Tulsa City Council District 7: Arianna Moore. Republican incumbent Moore's leading challenger is liberal Democrat Anna America, Kathy Taylor's campaign manager.
District 14 District Judge, Office 14: Kurt Glassco. Despite his background as a Democratic candidate for Congress many years ago, Judge Glassco is well-regarded by conservative Republican attorneys as a fair and skillful arbiter. John Eagleton writes: "Judge Glassco has my respect. I have appeared in his court and observed him handling hundreds of cases. He is a great judge. He follows the law without injecting personalities into the outcome. We need more judges like him."
One of his opponents, Jill Webb, is the "partner" of Unitarian clergyperson Tamara Lebak. Question for the reader: If someone would twist the words of Scripture and disregard the consensus of all civilized societies in order to justify sexual perversion, is it reasonable to expect them to show due regard for our state's laws, constitution, and judicial precedent?
MORE: The ladies who led the fight to repeal Common Core in Oklahoma have posted their personal endorsements. All four like Dax Ewbank for Governor; three of the four support Brogdon for Senate (the fourth supports USAO Professor Kevin Crow); three of the four back Steve Russell in the 5th Congressional District (the fourth supports Harvey Sparks); and all four want Robert Hubbard to unseat incumbent Frank Lucas in the 3rd Congressional District.
The Oklahomans for Life 2014 primary candidate questionnaire is online. There are separate sets of questions for state and federal candidates, and you can read the full text of the questions to which the candidates are responding.
OCPAC head Charlie Meadows has posted his personal picks. He wants to see all three incumbent GOP congressmen who drew challengers -- Mullin, Lucas, and Cole -- replaced by their challengers.